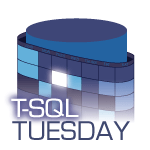 This month's T-SQL Tuesday is hosted by Ewald Cress [b|t], who has invited people to give public shout-outs to those who have helped them in their career or made a meaningful contribution to their "life in the world of data."
I would like to express my gratitude to two people in particular:  Steve Jones [b|t] and Grant Fritchey [b|t].  The guidance and encouragement that these two have given me have significantly boosted my presentation skills and confidence, and in turn transformed my career as a data professional.  Let me tell you a bit more.
Steve has been very supportive and encouraging since I began speaking at SQL Saturday events.  I remember one presentation in Denver particularly where I wasn't happy with how it had gone, but Steve was kind enough to say how much he liked the way I'd handled the demo portion, and even recommended to a veteran speaker that he could do worse than follow my example.  You can imagine what a boost to my speaking confidence that was!  He was also the first person to really push me to submit my R session to Summit last year when I didn't think I was quite ready yet to step up to that level.  Thank you for your backing and inspiration, Steve!
Grant attended a presentation of mine in Albany, and I must admit I was a bit unnerved to have one of the "big names" of SQL in my session.  Afterwards he  provided me with a comprehensive set of pointers including the things I did well and those with which I needed improvement.  This list was instrumental in improving my speaking skills, and is the kind of valuable feedback that is rare to receive.  The really amazing thing to me was that he prepared this list for me while on vacation with his family!  Thank you for your generosity and guidance, Grant!
To Steve and Grant, I can't thank you enough for the impact you've had on my career.  Not only have you helped me grow, you've also shown me a model for how I can help others in the SQL community grow too.  Now hopefully I can do the same for someone else on their journey.