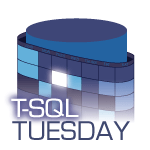 This month's T-SQL Tuesday is hosted by Mala Mahadevan [b|t], who has invited people to discuss new skills and technologies that they'd like to learn in the near future, with the twist that she's particularly interested in non-SQL Server items this time out.
This ties in rather well with my post yesterday about my New (SQL) Year's resolutions, one of which is to spend at least thirty minutes five times a week on professional development.  I've got two main non-SQL areas that I'm looking to learn more about between now and next year's PASS Summit: Microsoft Azure and Python.
Although none of my clients are currently primed to move into the Azure cloud, I need to make sure that when they're ready, I am too!  I'm looking to dive in to the business intelligence and analytics offerings, as well as being particularly intrigued by Azure Cosmos DB.  The first goal is to truly get my head around as many of the 100+ available services as possible so that I can understand why and when to use each one; the how portion can come later.
On the Python side I've got three main goals:
1.  Upgrade my pandas skills to be truly "pro-level".   No more googling every other data frame manipulation I need to write!
2.  Learn Seaborn to take my plotting and visualization skill to the next level.
3.  Work on some fun areas of Python outside of the data science ecosystem to develop my overall Python skills.
I hope you'll check back in on me over the next twelve months to find out how I'm doing!